People From All Over Celebrating Christmas Eve 2016 Know History
People From All Over Celebrating Christmas Eve 2016 Know History
Christmas is celebrated on behalf of the birth of Jesus Christ. Christians believe him as the Son of God.
Meaning of Christmas :
The name Christmas is derived from the Mass of Christ. A mass union, which we referred them as a communion is where Christians remember that Jesus died and them again came back to life. The "Christ-Mass" service is allowed to take place after sunset or before the sunrise the next day. So all the people celebrate it at Midnight. So the Christmas is a shortened name for Christ-Mass.
Christmas is celebrated by most of the people around the world. It is a time when family and friends come together and remember the good things they have. Children like this festival because it is a time when we give and receive presents!
Christmas is both a sacred religious holiday and a worldwide cultural and commercial phenomenon. For two millennia, people around the world have been observing it with traditions and practices that are both religious and secular in nature. Christians celebrate Christmas Day as the anniversary of the birth of Jesus of Nazareth, a spiritual leader whose teachings form the basis of their religion. Popular customs include exchanging gifts, decorating Christmas trees, attending church, sharing meals with family and friends and, of course, waiting for Santa Claus to arrive. December 25–Christmas Day–has been a federal holiday in the United States since 1870.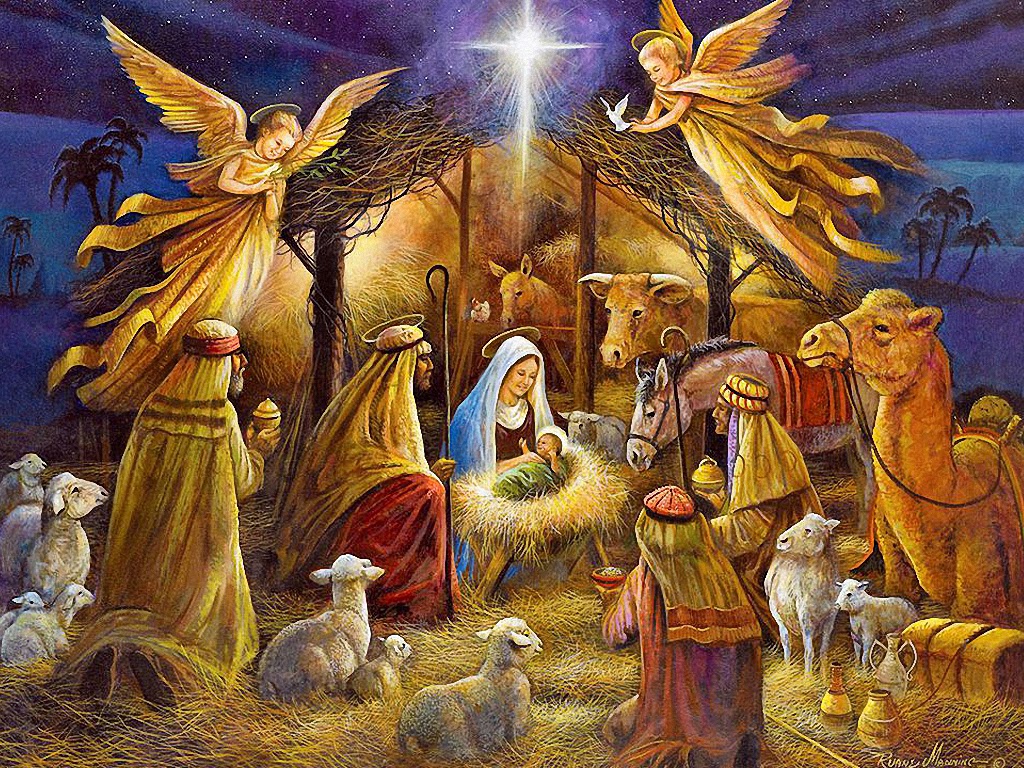 Date of Christmas :
No one knows the real birthday of Jesus! No date is given in the Bible, so why do we celebrate it on the 25th December? The early Christians certainly had many arguments as to when it should be celebrated! Also, the birth of Jesus probably didn't happen in the year 1 but slightly earlier, somewhere between 2 BCE/BC and 7 BCE/BC.
History behind the Birth of Jesus :
The census that was ordered by Caesar Augustus was the first of its kind. It was done because the Roman government wanted to make sure that everyone in the Empire was paying their taxes correctly. The census was carried out all over Empire (most of Europe): but in Palestine, it was carried out in a Jewish way rather than a Roman way. This meant that families had to register in the their historical tribal town rather than where they lived. This also meant that Joseph and the very pregnant Mary would have had to travel from Nazareth to Bethlehem, as this was town that Joseph's family (the royal family of David) originally came from – a journey of about 70 miles (112 kilometres).
Some people think that Bethlehem could also have been Joseph's actual home town. He'd traveled to Nazareth to collect Mary once they were betrothed/married to take to his home town to initially live.
The journey would have taken about three days and they might well have arrived in the evening, because if they had arrived earlier in the day, it is more likely that they would have found somewhere to stay.
As many people would have traveled to Bethlehem for the census, all the houses, or certainly upper levels were full. Many people think that Jesus was probably born in September or October during Sukkot, the Jewish Feast of Tabernacles, rather than during December. During the festival, Jews live outside in temporary shelters.
So, Joseph & Mary probably had to sleep with the animals in a stable or in market stall that sells animals.
Baby Jesus in Manger :
It was the custom in those times to wrap a new born baby very tightly in swaddling clothes. The arms and legs of the baby were also wrapped, so they couldn't move. This was done because they thought it helped the baby to grow strong, straight limbs! And as no proper crib was available, the new baby boy was placed in a manger, or feeding trough.
There's a theory that Jesus might have been born a couple of miles outside of Bethlehem. There was a special shepherds' watch tower called the Migdal Eder. So Jesus might have been born with shepherds.