Are These New Rs 1000 Launching By RBI Real Or Fake?
Are These New Rs 1000 Launching By RBI Real Or Fake?
Prime Minister Narendra Modi announced the demonetisation of Rs 500 and Rs 1,000 notes from November 8. RBI released two kinds of new currency notes i.e, Rs 500 and Rs 2,000. Now, people have been waiting for new currency notes to know how they look like. Some reports said that the new Rs 1,000 note will be releasing soon.
Ever since this news came out, a Whatsapp message containing a picture of new Rs 1,000 notes going viral. The message read, "From 1st January 2017, New Rs. 1000 notes will come. Rs 2000 notes must return to the banks. Max deposit allowed 50k(50000) only. This is allowed for 10 days only. Afterwards Rs. 2000 notes not valid. Don't keep more 2000 notes."
Earlier, someone posted the pictures of new Rs 1,000 notes with grey color which circulated in social media. Now, these new Rs 1,000 are printed in green color. So, we can't come to a conclusion that these are real notes which becomes available soon.
However, we can consider few points in the picture to conclude that these are fake. Want to know them?? Read below.
Fake Pictures of Green-Coloured Rs 1,000 notes :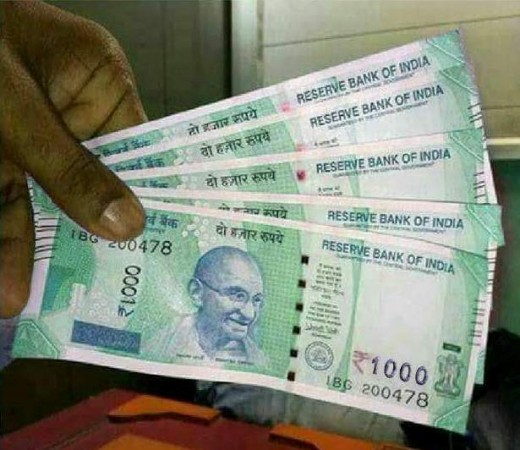 Above the photo of Mahatma Gandhi, something written in Hindi – "dho hazaar rupaye" which means two thousand rupees.
When you observe closely, the number 1 in the Rs 1000 is printed in English script. But, the new currency notes have the numericals printed in Devnagari script or Hindi.
Also, the slanted lines on both sides of the notes seem to be similar as on Rs 2,000 notes.
So, we can conclude that these images are the photoshopped version of a man's hand holding Rs 2,000 notes. People shouldn't believe these kind of rumours until it is issued by the Government officially.